There is a lot of fuss in the natural hair community about hair care, which is good, but we rarely talk about scalp care. Scalp care is so fundamental in
our natural hair journey because a healthy scalp is paramount to healthy
hair. In this post, you will be learning the basics of setting up a simple scalp
care routine for your natural hair which will, in turn, prevent scalp conditions like itchiness, dryness, dandruff, soreness, redness and so on.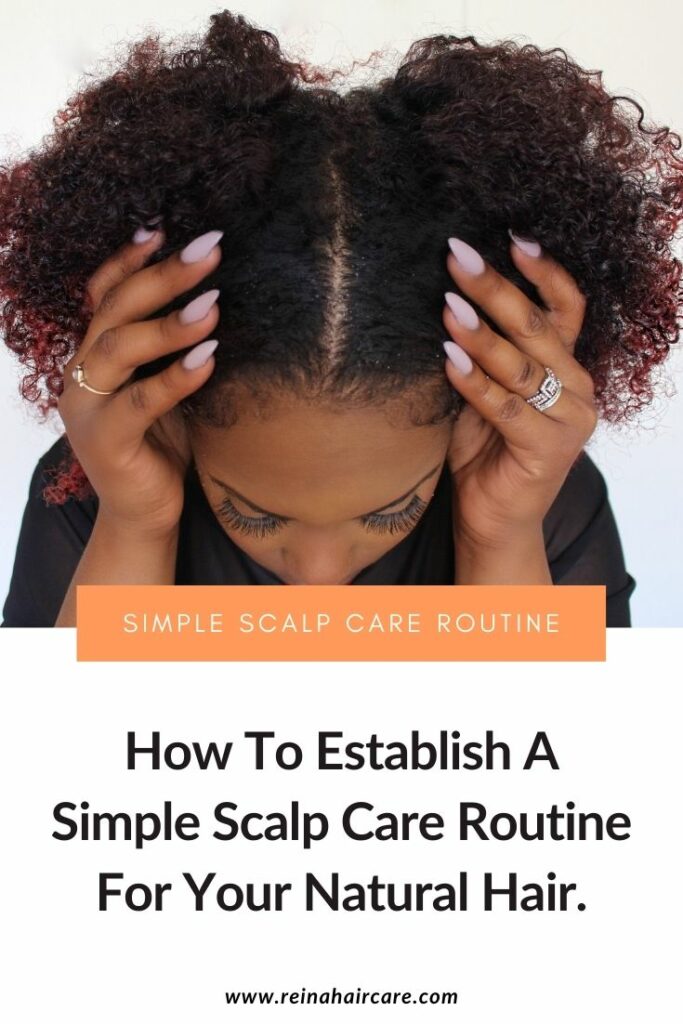 Let us start with your wash day. A lot of us do not oil our scalp on wash days which eventually leads to dryness and itchiness. Just like your skin, the scalp needs to always stay moisturized. As much as we have sebaceous glands on our scalp that produce sebum which helps the scalp stay moisturized, the sebum is not enough to keep the scalp from getting dry for a long period of time except if one has an oily scalp type. To learn the different types of the scalp, how to do a scalp test and care for the various scalp types, click HERE to download this free eBook on understanding how the scalp determines the extent to which our hair can grow. 
Always oil your scalp on wash days after shampooing and deep conditioning. As you apply the oil to your scalp, be sure to gently massage as well to enable faster penetration of the oils and increase blood circulation. For your regular scalp care, we highly recommend Reina Haircare Hair & Scalp Serum. This serum is lightweight, non-greasy and has been formulated with high quality natural & organic ingredients clinically proven to easily penetrate and nourish your scalp. It is gentle on the hair follicles and scalp and alleviate scalp conditions like itchiness, dryness, scaly scalp and reduces dandruff while also strengthening and stimulating hair follicles to encourage hair growth and reduce hair loss.
Moisturize and Oil Your Scalp In Between Weeks
One of the reasons your scalp itches between weeks and after installing a protective style is you do not re-moisturize and re-oil your scalp. For instance, just because you moisturize your skin after bathing today does not mean you will not moisturize it tomorrow. Guess what will happen when you neglect this, your skin gets dry and flaky. The same as your scalp! However, due to a higher presence of sebaceous glands on the scalp more than the skin, it is best to re-moisturize and re-oil not everyday this time but at least two-three times in a week depending on your scalp type.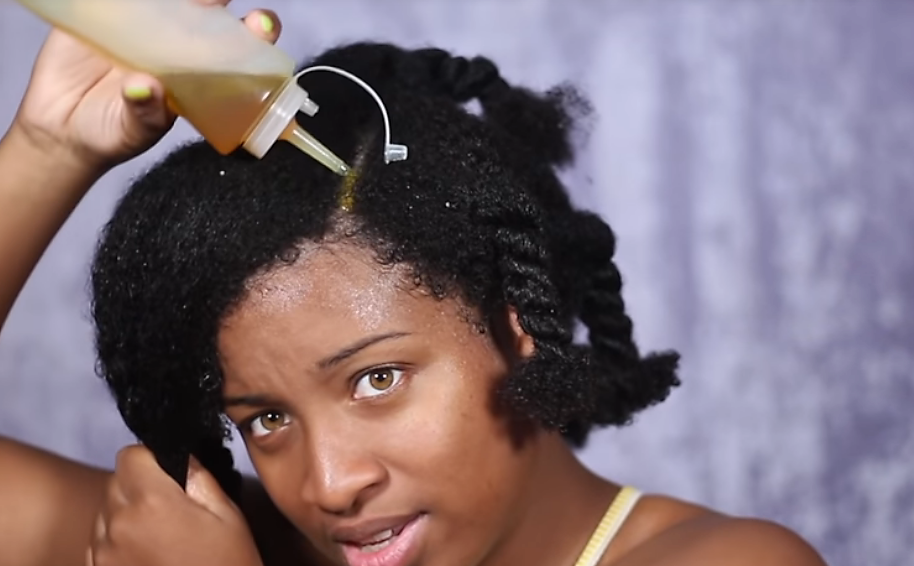 How Then Do You Moisturize and Oil Your Scalp During The Week or In A Protective Style?
First, spritz warm water gently on your scalp. Do not spritz to the point water drips down your face continuously but enough to moisturize your scalp. Why warm water? Warm water opens your scalp pores to enable the oil to penetrate as opposed to cool water. Then proceed to apply and massage the Hair and Scalp Serum. This oil comes with an applicator which makes application easy. Repeat this process after two or three days depending on how dry your scalp gets and your environmental weather condition like harmattan and winter. 
Other Scalp Care Practices You Should Never Ignore/Do's and Don'ts of Scalp Care
Do not take scalp massages for granted. Scalp massages are not only relieving for headaches and migraines but increase blood circulation which in turn promotes a healthy scalp and rapid hair growth. The circulation of blood is important to hair growth as this is the transportation system for oxygen and nutrients to be delivered to the hair follicles with subcutaneous blood flow. Hence during the anagen (growth) stage of the hair growth cycle, blood flow is crucial as it ensures that the scalp derives all the essential nutrients and oxygen to achieve strong, healthy hair that grows as the hair strands are being nourished regularly. We highly recommend regular scalp massages and accompany these with our popular Hair & Scalp serum and just watch your hair thrive at it's fullest potential.
Scalp Exfoliation: Just as you buy and use facial and body scrubs to get rid of dead skin cells, the scalp should not be overlooked. Dead skin cell accumulation on the scalp is notorious for dandruff and outrageous itchiness. So occasionally, exfoliate and use shampoos formulated specifically to combat itchy scalp and dandruff, like Nizoral or Head and Shoulders. For free scalp scrub DIY recipes, click HERE to download our free eBook which contains recipes on different scalp exfoliating scrubs.
Do not apply leave-in conditioners, deep conditioners, and hair butters to the scalp: These products are formulated with the hair's PH in mind and not the scalp's PH because they are different scales. When you use these products on your scalp, you clog your scalp which will cause itchiness and discomfort.
Avoid tight protective styles: Tight protective styles pull at your scalp and cause soreness, bumps or spots and redness. Whenever you are having a protective style installed by a stylist and it begins to feel tight, please let your stylist know so they stop making the hairstyle tight. Most times the stylist might not know it is tight, so you must be vocal about it so they can loosen it a bit for you.
Scalp care should never be taken for granted in your natural hair journey. In fact, it is the most important and fundamental aspect to healthy, strong hair that grows. These aforementioned tips will help you get started and when you implement them, the chances of having a problematic scalp in your hair journey is close to non-existent. Please share this post if you found it useful. What other scalp care practices do you implement in your natural hair journey, please leave a comment below. Let's chat more in the comments section.
Created by Viola Ekene for Reina Hair Care.