One of the most basic ways to take care of your hair is to wash it. But it's important to understand how to handle your hair in the shower while it's wet and at its most vulnerable especially if you have super curly, coily, or afro-textured hair (or maybe a combination of all three) so you don't cause any damage. 
Everyone's natural hair is different so you have to find out what works for you, your lifestyle, and your hair. And yes, the process of finding the right routine and product mix can be time-consuming but don't worry, we are always here to help!
If you have a head full of natural hair, wash day can be a bit intimidating if you're new to the healthy natural hair scene. A bit of water touches your hair and you're instantly introduced to shrinkage, tangles and knots. Knowing how to wash your natural hair is priceless. 
Is there a right way to wash your hair? There's a little more to it than wetting your hair, lathering up with shampoo, rinsing, and repeating with conditioner especially if you want optimal results. We are going to give you the top steps for getting through your natural hair wash day.
Step 1: Pre-poo With Oil.
Pre-poo is when you apply a conditioning treatment to the hair before shampooing/washing to add moisture to the follicles. Everything that is put on your hair before a shampoo will indeed be washed away. It may be hard to see the point of doing this step in the first place. Remember that the process of washing the hair can be very stressful on the hair, especially if you are still using a sulfate shampoo. There tends to be a ton of manipulation during the washing, deep conditioning and styling routine. Doing pre-poo conditions the cuticle and gets it prepared for the manipulation to follow.
Applying a natural oil like tea tree oil or coconut oil to the hair from root to tip about 30 minutes before a shampoo can be nourishing and give a protective shield to the hair. We recently found out that pre-pooing the hair at least 20 minutes before shampooing can reduce stress known as hygral fatigue on the hair. So, pre-poo with the hair & scalp serum beforehand to give your hair a fighting chance.
Tip: Work In Sections.
If you have 6 inches or more of natural hair length, washing the whole head of hair loose may not be the best way to thoroughly wash your hair. Try sectioning your hair into 4 or 6 sections that are twisted or braided loosely. Remove one braid or twist at a time and wash that particular section only. Re-twist or braid the section when the section is washed. This process takes a lot longer, but fewer tangles, knots and breakage is worth it.
Step 2: Shampoo and Detoxify.
The shampoo is for cleaning the scalp, and the runoff of water and suds work to clean the length of your hair. If you get the scalp and hair sufficiently wet, you should be able to get shampoo right to the scalp and work a good lather. Rinse well with lukewarm water and your hair should be clean. 
Before applying the shampoo to your hair, mix it with a little water in the palm of your hand. This way you'll reduce the direct impact of the shampoo on your scalp and reduce product consumption. Make sure to apply the shampoo to your entire scalp and crown. You don't need much (if any) shampoo on the tips of your hair. Focus on shampooing your scalp, rather than the ends of your hair then use the lather to wash the rest of your hair.
Remember to use the right kind of shampoo for your hair.
Occasionally, like once in two or three months, detoxify using a clay mask. Our Bentonite clay mask gently cleanses & exfoliates your scalp while deeply cleansing your hair and providing deep conditioning to leave you with supremely defined curls, coils and kinks. The clay mask also helps to get rid of dandruff, protect your hair and scalp from bacterial and fungal infections, boost hair growth and add intense shine to your hair.
In most cases, you do not need to shampoo when you do the clay mask treatment because the clay is so cleansing. However, the great thing about bentonite clay is that it can give you a clean slate to apply your products. You'll notice that your products work a lot better after using this clay mask because they can effectively reach the hair shaft.
Step 3: Deep Condition.
Don't forget to always follow up your 'poo' with an instant conditioner and if you're feeling yourself, hop out and deep treat right quick with a gentle heat source! You will need to replenish the moisture back into your hair, as well as detangle your hair with a moisture-rich conditioner. You don't need to put conditioner on your scalp. it might make things oily and clog your scalp. Instead, apply the conditioner from the mid-shaft down to the ends of your hair. Then, let it sit at the recommended time (usually found on the bottle). Some conditioners need to sit for 5 to 7 minutes while deep treatment conditioners like the Cupuacu Butter & Moringa Oil Moisturizing Deep Treatment sit for 20-30 minutes. Letting it sit this amount of time will soften and smooth your hair, making it shinier and very moisturized. Don't leave your deep conditioner in for too long. Rinse again. Just like the shampoo, get it all out.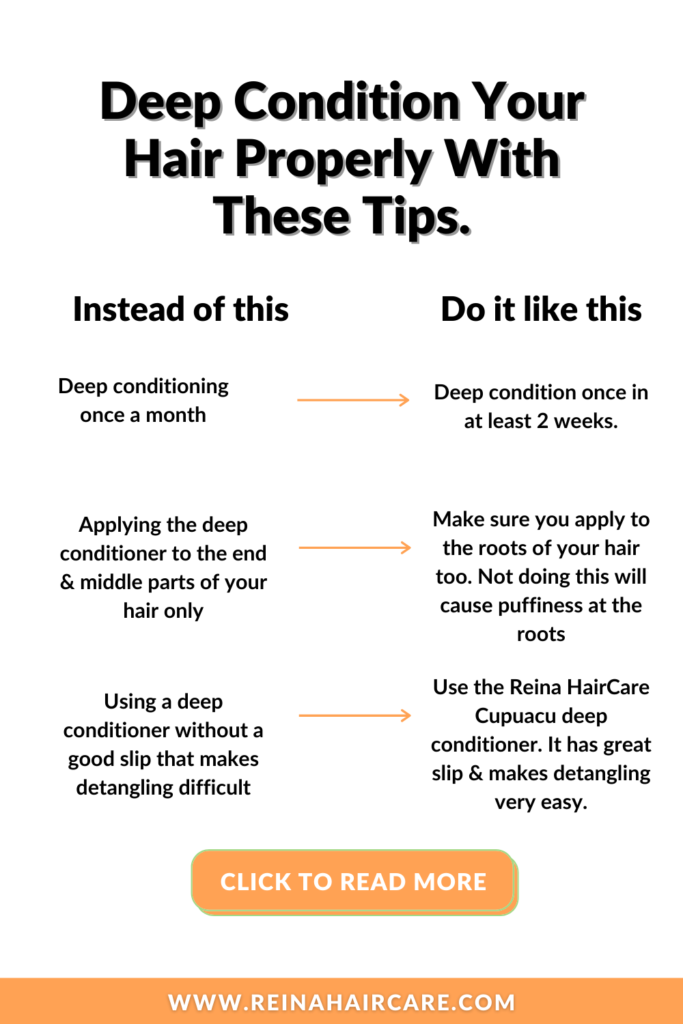 After-Wash Care
Step 4: Moisturise and Seal.
Once you get out of the shower, gently pat your hair damp instead of rubbing it. Moisturise your hair using the LOC or LCO method. Bearing your hair porosity in mind, how you layer your products determines how effective your hair moisturising routine will be. 
To use the LOC method:
Start with freshly washed hair that is damp.
Follow up with the hair and scalp serum and smoothen the oil down your hair gently.
Then, apply the leave-in conditioner to each section of hair and smoothen it down your hair as well. That's it for this method!
To improve hair growth, apply our iconic Hair Elixir made with an advanced formula containing a complex blend of clinically proven high-quality ingredients to help your hair appear visibly longer, thicker, and fuller looking. Apply straight to the scalp and massage it gently to allow for maximum absorption. Massage into the problematic areas every morning and night. Remember a little goes a long way with the elixir. Do not rinse, it is safe to leave it on all day.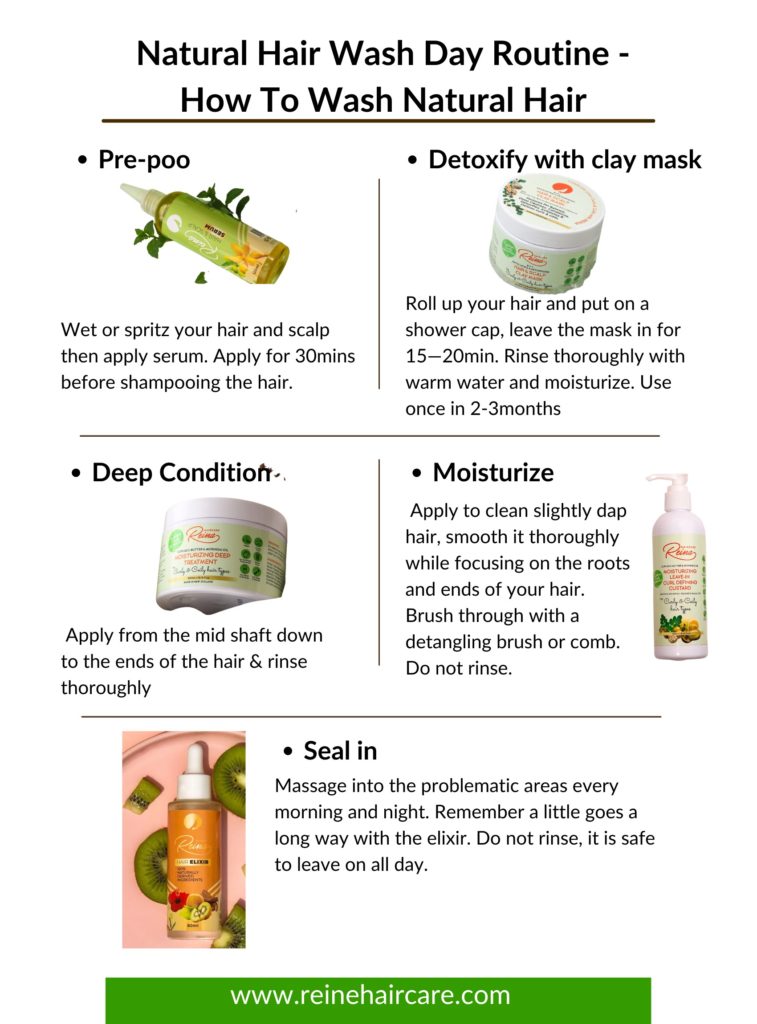 Takeaways.
Don't wash your hair every day
Seriously.
Don't wash your hair every day, or you'll strip your hair of its natural oils. This can dry and damage your hair in the long run.
But, like your shampoo, the optimal amount of time to wash your hair varies a little depending on your hair type.
Looser hair types may require washing every 2 to 3 days, but kinky curly hair types may only need washing once a week or in two weeks.
Either way, letting your hair go a few days between washes gives your hair's natural oils the chance to do their thing and keep your hair healthy.
How do you wash your natural hair? Let us know in the comment section below.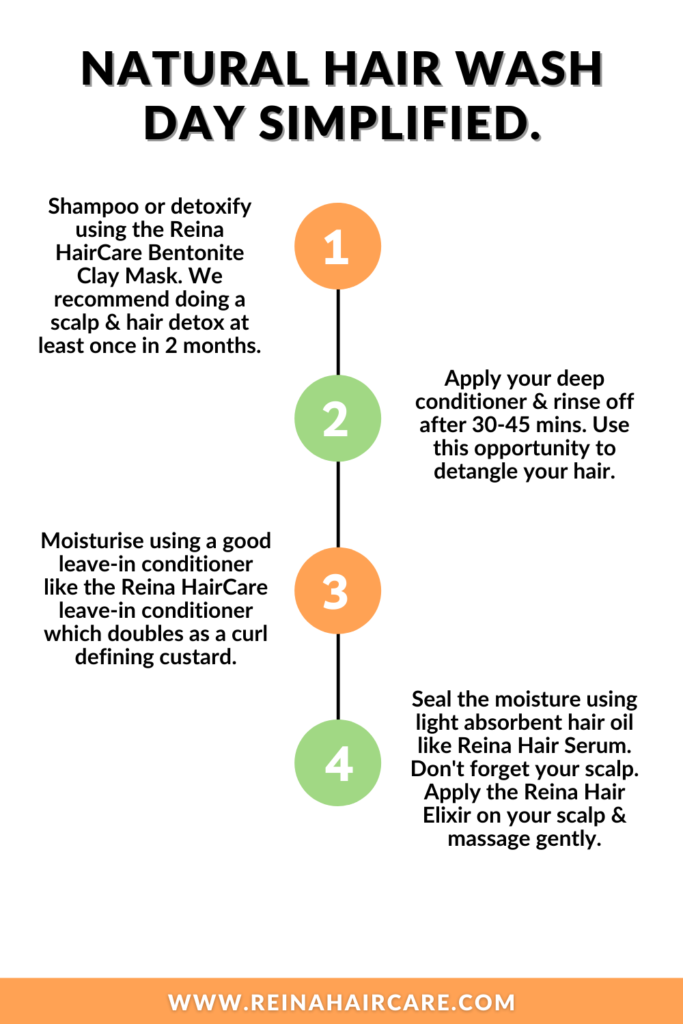 Written By Social Butterfly Haven For Reina HairCare.