What food is to the body is exactly what deep conditioning is to natural hair; Nourishment. Do you know how the body turns when it's not fed correctly? That's what happens when you deep condition your hair wrongly. 
Contrary to popular belief, deep conditioning is nothing compared to your regular conditioning. If you've often missed it, don't worry; you're going to get a better understanding from this article. 
What Is Deep Conditioning?
Deep conditioning is the act of applying nourishing products to your hair and leaving them in for a longer time than you would with a regular conditioner.
Unlike your regular conditioners, you can only deep condition your hair once or twice a week, depending on your hair needs. But for your deep conditioning to be effective, you need to do it right. 
Have you tried deep conditioning your hair, and it turns out to be a total disappointment? Here's why:
You could have the right products and all the patience you need, but if your routine isn't organised, you're back to square one.
– I don't know what you've heard, but deep conditioning with your fingers gives you the best results.
          -Deep Conditioners can be your enemy, too, when you decide to leave it in overnight. Wrapping your hair shouldn't exceed one hour no matter what result you want to achieve to avoid damaging your hair. 
Nothing ruins a good routine like using the wrong products. Choosing the wrong deep conditioner for hair will end up damaging your hair instead of nourishing your hair. Save yourself the stress and use Cupuacu Butter & Moringa Oil Moisturising Deep Treatment By Reina HairCare.
As mentioned earlier, deep conditioning is not like regular conditioning. It's certainly not a procedure you start when you're in a hurry. Every step counts and determines how perfect your outcome will be. So if you're among those who are always in a hurry to get it done with, your hair will barely be deep conditioned. Always make sure to smooth in the deep conditioner to every strand of your hair when working in sections. Do not forget the roots of your hair because that's where matting usually occurs. 
Now you've found out why your deep conditioning never works. Let's fix that!
You will be needing:
How To Deep Condition Natural Hair Properly.
Get into the shower. This process can be done over the sink if a professional is helping, but If you're doing it yourself, we recommend you use the shower.
Loosely braid or twist your hair into sections. This technique makes your deep conditioning easier, especially if you're working with your natural hair. Section your hair and loosely twist into 4-5 sections. 
Ideally, you should deep condition clean hair. So wet your hair and shampoo, then rinse thoroughly. 
Apply your deep conditioner. Work on each section of your hair one at a time while loosening each twist. Using the tips of your fingers, gently massage your deep conditioner into your hair. Start applying from the tip of your hair and work your way gently to the roots.  Make sure to massage your hair thoroughly to enable it to soak in the deep conditioner properly.  You see why you need active fingers? *winks*
Take note not to apply deep conditioners to your scalp. It's meant only for your natural hair. 
After working on each section, loosely twist back your hair to increase absorption and lock in moisture.
Pro tip: Applying your deep conditioner in sections is a great way of detangling your hair. You're working your fingers through each strand of your hair, nourishing and detangling at the same time. One stone, two birds
Clip your hair. Now you're done working on each section of your hair, clip your hair together. This prevents strands of your hair from falling to your face.
Cover up! Using your shower cap or grocery bag, cover your hair. Make sure it covers up air-tight. The heat generated under the bag helps your hair get deep conditioned.
Get distracted. You might want to do other things because you need to leave the bag for 30-45mins.
Then rinse with warm water first and then cool water. Yes! Cool water. It will help your hair cuticles close in and retain moisture from the deep conditioner. After Deep Conditioning, apply the Moisturising Leave-in Conditioner and Hair & Scalp Serum for long-lasting moisture & hydration.
Characteristics Of A Good Deep Conditioner.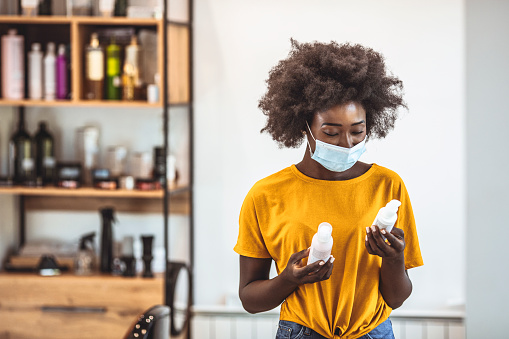 Look out for deep conditioners that are made specifically to suit your hair needs. Your hair type and porosity determine the type of deep conditioner that best suits your hair. Coarse, curly or thick hair needs a hydrating/moisturising deep conditioner. Smooth, dry or straight hair needs extra moisturising deep conditioner with soothing agents. You need a deep conditioner that penetrates deep into your hair, so knowing what your hair needs helps you buy products that will penetrate your hair shaft and scalp. The Reina HairCare Moisturizing Deep Conditioners are formulated for people with curly, coily and kinky natural hair (Type 3-4 hair types).
A good deep conditioner should provide the hair with antioxidants and hydration because of their hydrophilic (water-loving) properties. They also help stimulate hair growth at the follicle, combat dandruff and dry scalp, and increase the amount of shine in the hair. 
Pay attention to the ingredients contained in your deep conditioner. Deep Conditioners that contain Cupuacu butter, Moringa oil, Green tea extract, Baobab oil, Shea butter, Coconut oil make good products. These ingredients help the hair retain moisture and become easily manageable.
Why Deep Conditioning Is Essential.
Deep-conditioning in itself provides your hair with nutrients and moisturises your hair, making it appear soft and shiny. Deep conditioning prevents your hair from damages and promotes elasticity.
In conclusion, you can achieve healthy, soft, shiny, and lustrous hair if you deep-condition your hair correctly and follow the proper steps.
What products have been your holy grail for deep conditioning? Let me know in the comments.
Written By Social Butterfly Haven for Reina HairCare.