Research shows that 7 in out of 10 women always have issues with thinning edges and nape hairs and this is because of practices we unconsciously carry out day to day on our edges which weakens the hair follicles around the hairline and break them eventually. I love to refer to our edges and nape hairs as 'baby hairs' because compared to the other parts of the hair, they are the most fragile and easily susceptible to breakages. That is why more care should be given to them.
So how can you regrow back your edges? Don't worry. I got you! Let's dig in.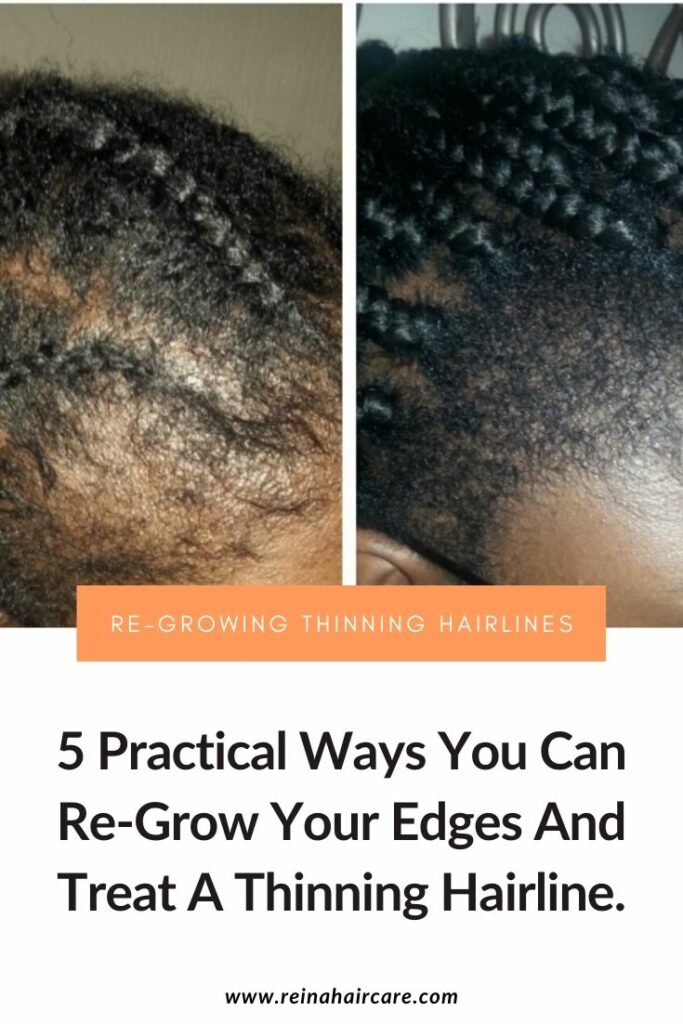 Always Moisturize Your Edges.
It is easy to forget this because they seem tiny and I understand but, remember that dry hair no matter what side of your scalp it is situated, is very prone to breakages talk less of the tiny nape and front hairs. As you moisturize and seal your hair on weekdays and wash days after deep conditioning, be sure to do the same for your baby hairs. A perfect way to do this especially if you are trying to regrow them would be applying hair products and using hair tools specifically targeted at speeding up the healing process of the scalp around the scanty edges and regrow your hair.
I honestly recommend the Reina Hair Growth Derma-Roller and Hair Elixir Set. These 2 have been paired as they will increase the chances of successfully regrowing your edges and nape hair.
The Hair-Growth Derma Roller is gently rolled on the skin in a controlled motion to create micro-punctures. This triggers the skin's natural repair process to stimulate endothelial growth factor production for follicle and hair growth. Read more about the derma roller HERE.
The Hair Elixir is masterfully crafted with 100% naturally derived ingredients clinically – proven to easily penetrate the scalp and stimulate hair follicles without harsh chemicals, and help regrow your edges, hairline, nape hairs, fill in your bald spots and grow healthy, strong hair. Read more about the hair elixir HERE. Also, do not forget to apply deep conditioners on that area when deep conditioning. They need that moisture too!
Avoid Installing Tight Protective Hair Styles.
You have probably heard this so many times and you are wondering if it works. Now, here is the truth. Tight protective styles pull hard at your hair and it not only causes hair loss but headaches and migraines. That is why when you are taking down a tight protective style, you will notice tiny hairs come off with it. This is because the tight braids have been pulling the hair for a long period of time with so much pressure. So, when it is time to loosen up, the poor hairs have no other option than to fall off. Also, when you install a new protective style, try not to wear, or pack it up for the first two to three days. This will enable your scalp to breathe and not cause tension from immediate over-styling after braiding. If you have a sensitive scalp, avoid wearing or packing it up at all to avoid scalp bumps, headaches, and gradual hair loss.
Scalp care while wearing a protective style is also very important to avoid dryness, itchiness, and dandruff. Always moisturize first by spritzing warm water on your scalp gently to avoid the water spilling down your face and then apply a well-formulated penetrating oil to seal in the moisture. I highly recommend our Hair & Scalp Serum as it will nourish, moisturize, alleviate itchiness, dryness, reduce dandruff and stimulate hair growth.
Always Wear A Wig Cap Before Wearing A Wig
The wig cap serves as a protective barrier for your natural hair especially the edges and nape hairs. Some frontals require sitting tightly on the edges to give a 'natural look'. While this may look very appealing, your edges suffer in the long run. But wearing a wig cap reduces the chances of this happening as the wig is no longer in direct contact with your hair. Also, make sure the wig cap is not tight on your hairline. I once had this wig that the frontal would grip my front hairline region so badly. I should have changed it, but I kept postponing it till I started noticing my edges were gradually falling off plus it gave me headaches. You know, it is like wanting to get into a relationship and you see tons of red flags, but you adamantly stay because it feels flashy. Lol! Do not do it, sis. It is not worth it. Always wear a wig cap first. It also protects your natural hair and prevents it from drying out. So, it's a win-win!
Reduce The Usage Of Styling Gels And Products You Use.
I know you want those edges to be laid all the time but sis, your natural hair edges were not created in the first place to be laid so it is only natural that when you apply some gels to it, after some minutes, your hair goes against it. But do you stop there? No. You go ahead to buy stronger gels to lay them down more. This is detrimental to your baby hairs because the pressure will be too much on it. I understand we all have different preferences and some people like their edges looking snatched all the time, but this should be done in moderation. The brushes we also use most times to get our hair to sleek down are hard and trust me when I tell you it is doing more harm than good. Give those baby hairs a rest if you want them to thrive. Alternate between wearing them in their natural state and laying them. Here is a quick tip on caring for your edges after a long day of wearing it slicked down. Spritz warm water on it and gently massage to get rid of the styling product residues and then rinse off over a sink. Then proceed to apply a good scalp care product like the Hair & Scalp Serum or Hair Elixir to soothe the scalp and keep it moisturized because the truth is, hair gels and waxes dry out natural hair terribly.
Use Scalp Care Products Specifically To Speed Up The Healing Process And Stimulate Your Follicles.
The good thing about not using DIYs for this is that most DIYS you make at home does not have certain important factors which are considered when professionally formulating scalp and hair care products in mind like scalp and hair PH plus penetrating ability of the product. Any time you make a DIY, you just use it right? I understand but it has 90% chances of not working as it should because it might not contain penetrating ingredients. So, most times, it just sits on the scalp which can clog the pores and cause dandruff. A good scalp oil should be light and penetrating and most DIYs and scalp oils I have seen and made myself as DIYs, aren't.
We highly recommend Reina Hair & Scalp Serum as it has been formulated by experts to easily penetrate your scalp, nourish, moisturize and stimulate growth.
If you are already dealing with thinning and receding edges, nape hair and temporary bald spots, we highly recommend our Hair Elixir and Derma Roller bundle as these work hand in hand to increase chances of successfully regrowing your hair.
Re-growing your edges and thinning hairlines is not as daunting as it seems. Just like every other thing in life, you have to determine to re-grow them and of course, stay away from anything that would frustrate your efforts as I mentioned previously. Above all, you have to be consistent and patient with this process, there is no miracle product out there that will regrow your edges or nape hairs overnight, so you also need to put in the effort by making sure you are mindful of some of the practical ways you handle your hair.
Let's chat more in the comments. Are your re-growing your edges? If yes, what other methods not mentioned in this post are you using? Share with us, please! Also, share this post with a friend. That will be highly appreciated.
Written by Viola Ekene for Reina HairCare.