Hey Queens! In this post, we'll be looking at the different types of alopecia, the causes and the remedies. We've been getting a lot of questions on these subject matters and this article will be answering all your concerns in detail. Let's start with the meaning of alopecia and how to differentiate bald spots from alopecia.
Meaning Of Alopecia
Alopecia is the partial or complete absence of hair from the areas of the body where it normally grows. A lot of people think alopecia only occurs on the scalp but the truth is, certain types of alopecia occur on any part of the body hair grows. Your eyebrows, beards, scalp, private parts, basically any part of your body hair grows from.
Does This Mean All Bald People Have Alopecia?
Most men who go bald do so because of a common hereditary condition called androgenetic alopecia mostly known as male pattern baldness. 90% of hair loss in men is caused by this androgenetic alopecia. This alopecia also occurs in women but is more common in men hence the name; androgenetic alopecia. Hair is lost in a well-defined pattern beginning above the temples. Over time, hair starts to recede and forms the common 'U' or 'O' (in the middle of the head) shape pictured below.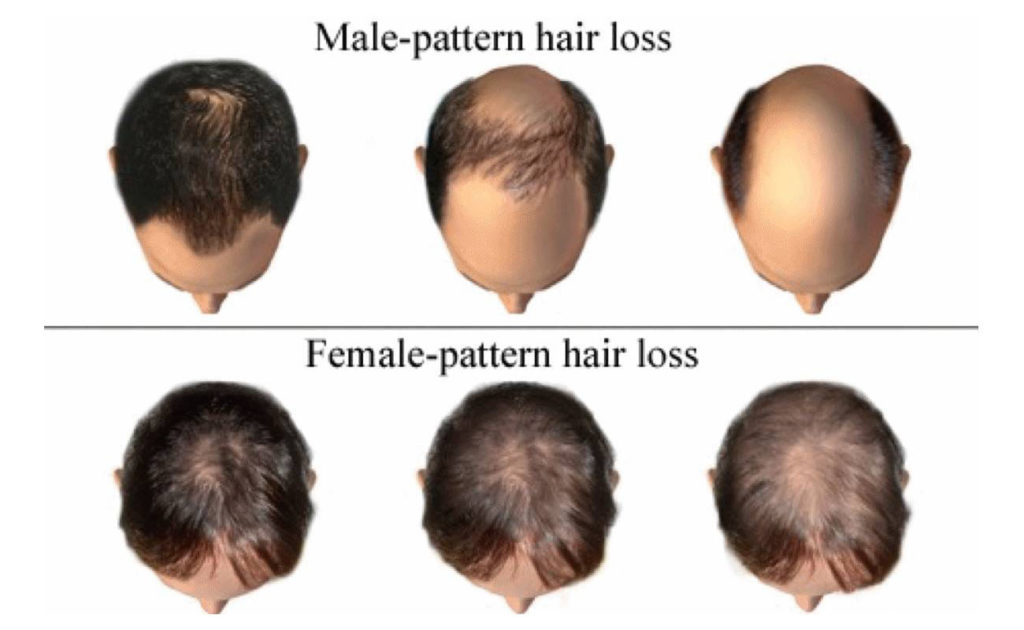 There are three types of alopecia and they are:
Alopecia areata.
Alopecia totalis and
Alopecia universalis.
Causes of Alopecia
Some of the causes of alopecia are:
Certain Hairstyles and treatments: Very tight protective hairstyles and pigtails/ponytails that cause bumps and boils on the scalp can cause traction alopecia which can progress very quickly to loss of more hair. Chemicals like relaxers also damage the hair follicles over time leading to alopecia.
Hormonal changes and medical conditions: Hormonal changes due to pregnancy, menopause and thyroid issues can trigger alopecia. However, due to the fact they are hormonal, in some cases like pregnancy, hair grows back to normal after childbirth as hormone levels begin to balance out. 
The hair-pulling disorder also known as trichotillomania can also lead to alopecia. This is when someone cannot resist the urge to pull out their hair. They may pull out the hair on their head or in other places, such as their eyebrows or eyelashes.
Medications for certain illnesses: Hair loss can be a side effect of certain drugs, such as those used for cancer, arthritis, heart problems, depression, and high blood pressure.
Stress: Research shows that very stressful emotional events like the loss of a loved one can trigger hair loss. Physical or emotional shock can also trigger hair loss however this is only temporary.
Family History (Hereditary): According to Mayo Clinic, the most common cause of hair loss is a hereditary condition that happens with ageing. This condition is called androgenic alopecia; male-pattern baldness and female-pattern baldness. It usually occurs gradually and in predictable patterns — a receding hairline and bald spots in men and thinning hair at the crown of the scalp in women. 
Alopecia Areata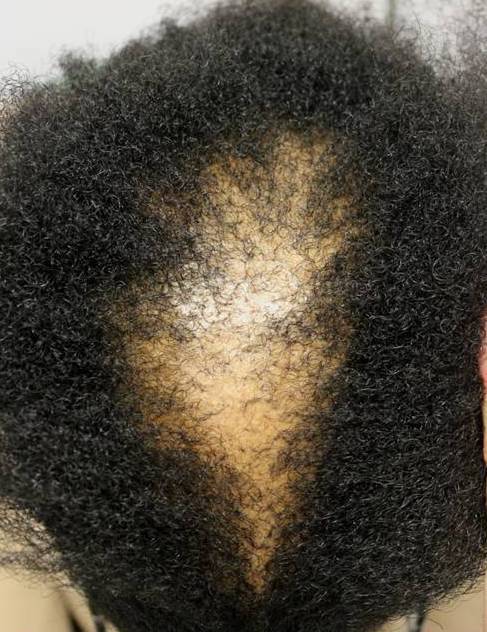 Alopecia is a medical word meaning 'bald' while areata means 'patchy'. Therefore, Alopecia Areata is a condition that causes the hair to fall out in small patches which can be unnoticeable to other people depending on the side of your scalp it occurs. This type of alopecia occurs mostly on the scalp but hair can also fall out from the face and other parts of the body. Alopecia areata commonly begins with itchiness at the particular spot where it is about to occur which is then accompanied by hair falling out in small patches. You'll start noticing hair clumps on the pillow when you wake up and when taking down a protective style.
The major cause of alopecia areata in black women is constant tension on the scalp from protective styles and years of trauma on the scalp from using relaxers. Chemically induced alopecia occurs when chemicals like relaxers damage your hair follicles leading to baldness or patchy hair on different sides of your scalp.
The safe and effective cure for alopecia areata is Dermarolling also known as micro-needling. The Hair Growth Micro-Needling Derma Roller is designed for professional home use on hair loss control & regrowth.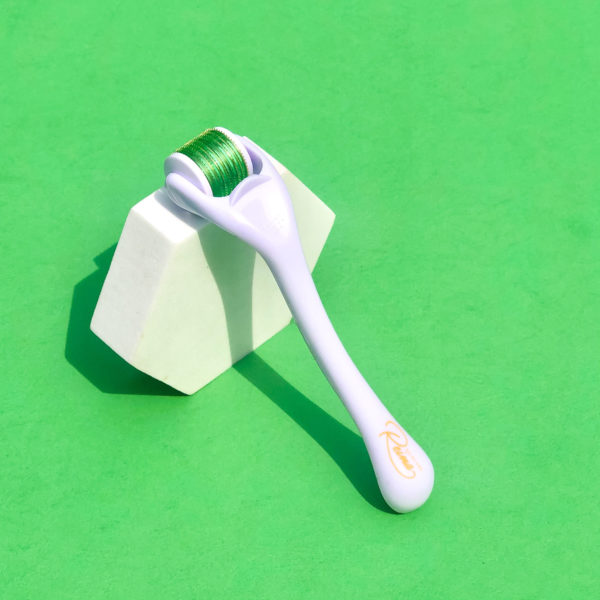 The needles are attached to a wheel and (when rolled over the scalp) cause microscopic wounds that activate the skin's natural healing response (haemostasis-inflammation-proliferation-tissue remodelling) and promote collagen production to encourage new tissue formation, meaning new hair follicle growth!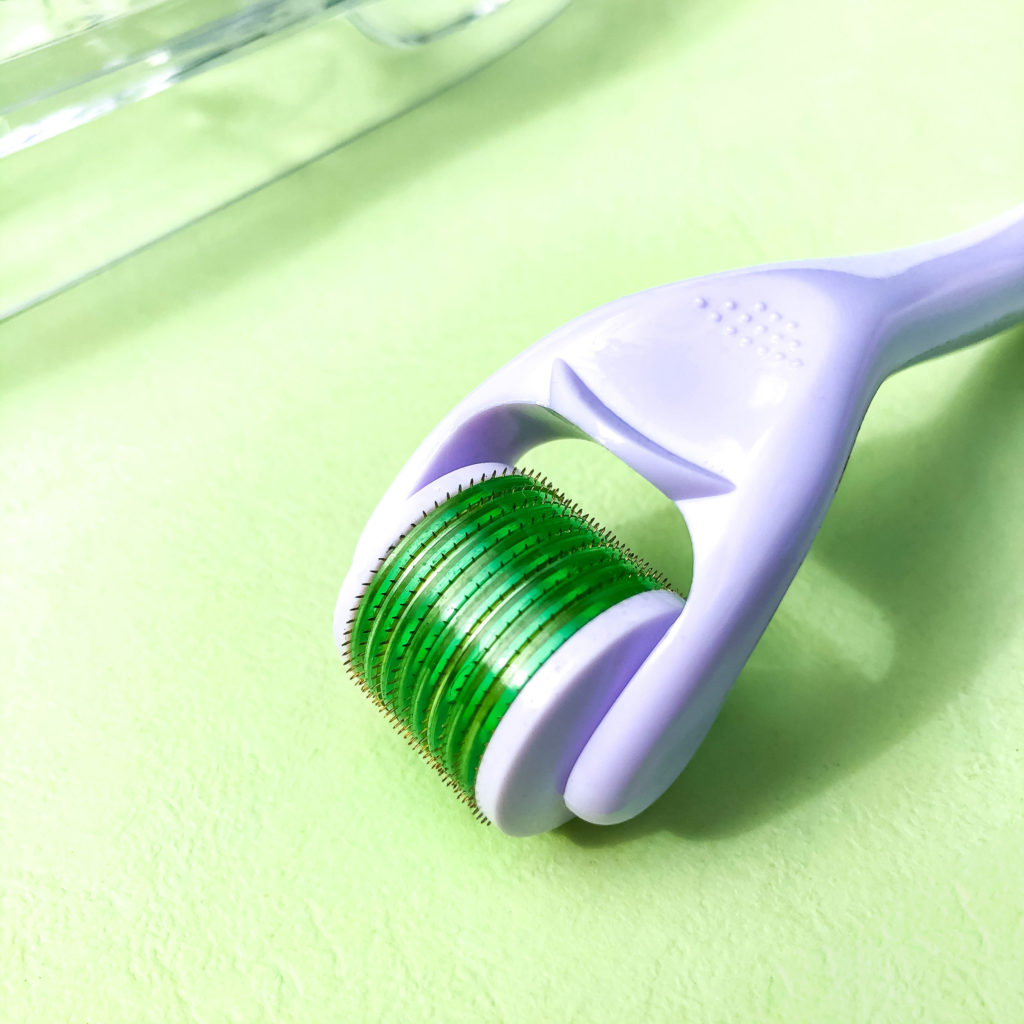 Formulated with high-grade 540 Grade A Titanium, the Reina HairCare 0.50mm hair growth derma roller is gently rolled on the scalp in a controlled motion to create micro-punctures that trigger the skin's natural repair process to stimulate endothelial growth factor production for follicle and hair growth. The 540 Grade A Titanium needles boost the absorption of your scalp treatment products on a weekly basis and also create micro-channels that improve the absorption and effectiveness of products by 80%. It is important to moisturise the derma rolled area with the hair elixir to nourish the area and trigger hair growth.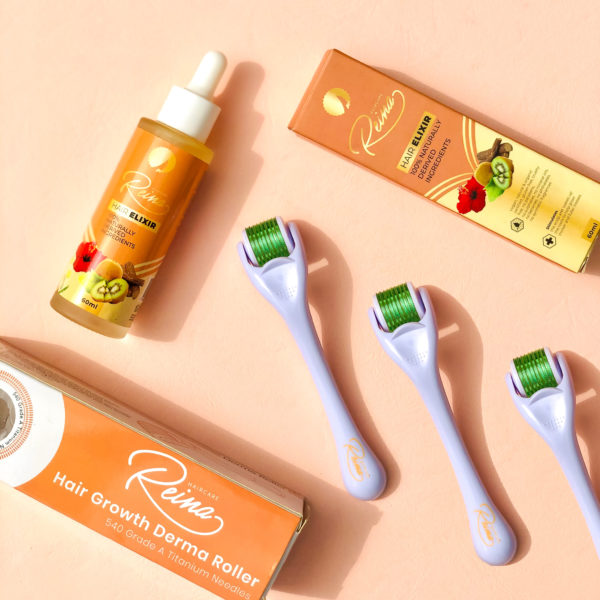 Click HERE to read how to use the dermaroller in detail. Below is a real-time result using the dermaroller and hair elixir.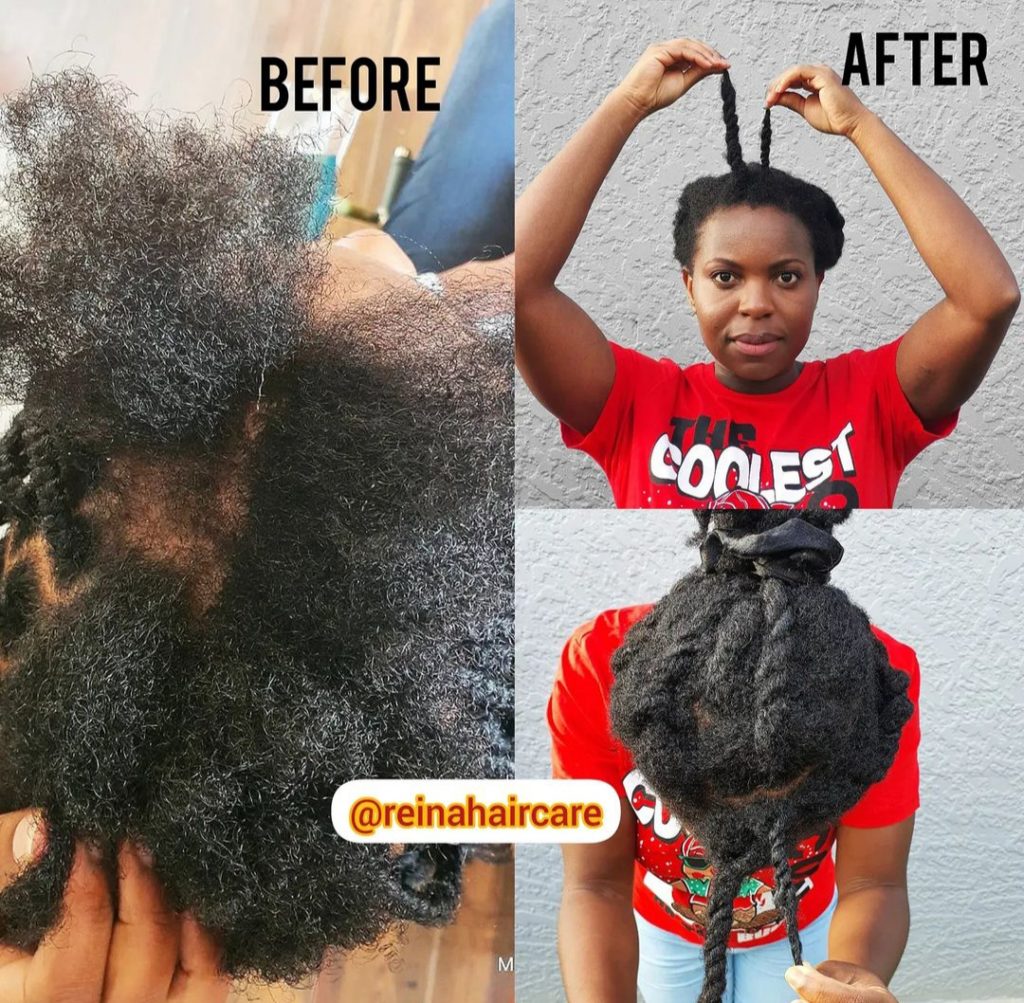 Alopecia totalis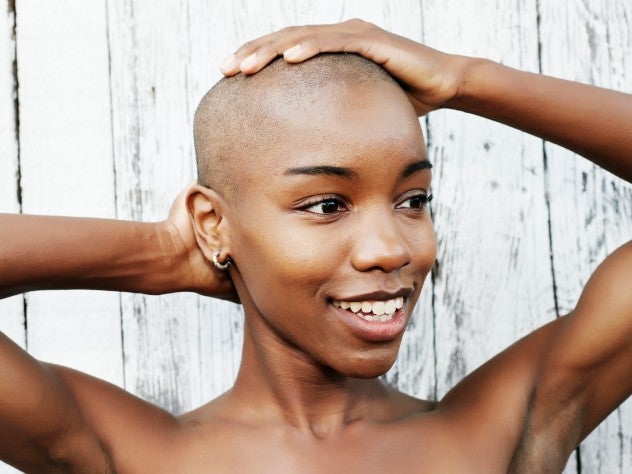 This is an advanced form of alopecia areata that causes a complete loss of hair on the scalp. This form of hair loss first begins as alopecia areata and progresses to alopecia totalis. People with this alopecia also tend to have brittle pitted nails. I highly recommend visiting a dermatologist for advice on this type of hair loss and proper medications. We also encourage you to join Facebook communities and groups of fellow women with alopecia totalis to learn how they are navigating their journeys and receive emotional support as well. I understand having this condition can have a toll on your confidence at first but learning there are so many aspects of you that make you beautiful and not just hair will be so life-changing for you. Alopecia totalis can also be a temporary condition as some women reported hair growing back gradually after some time. 
Alopecia universalis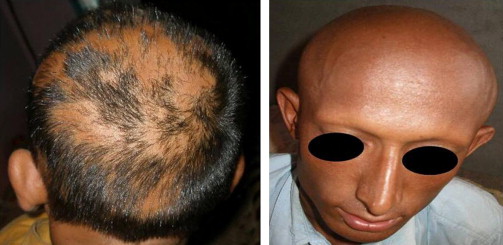 This is characterized by a complete loss of hair on the scalp and body. It is an advanced form of alopecia areata. When a person has alopecia universalis, their hair follicles are still alive and able to regrow hair. In fact, some people may find that the condition goes away on its own after a few months or years. But in some cases, a person may experience permanent hair loss. There is currently no cure for alopecia universalis. It is not contagious and does not permanently damage the hair follicles.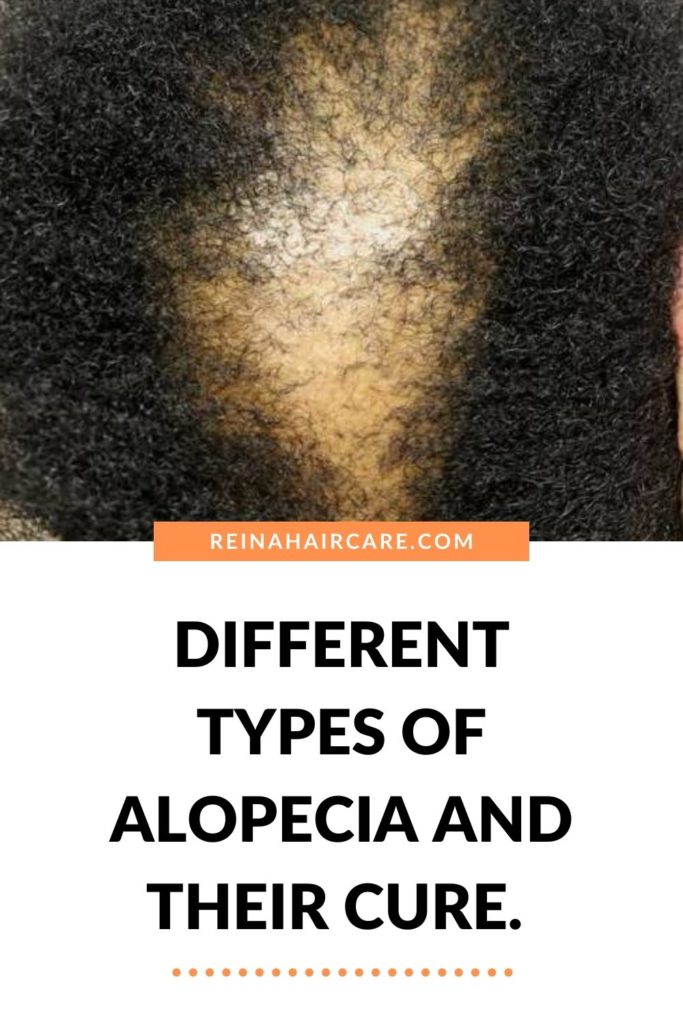 Are you experiencing any form of hair loss? Tell us in the comments section below. Don't forget to use the dermaroller and elixir to treat alopecia areata if you have this type of alopecia. Remember consistency is key with derma rolling. Derma roll once a week. Take care.
Created by Viola Ekene For Reina HairCare.