There are so many amazing benefits of micro-needling by using a derma roller to heal hair loss which has been handled HERE, so in this article, I'll be holding your hand and guiding you through the derma rolling process and how it is done so you can get the best results at all times. So let's go!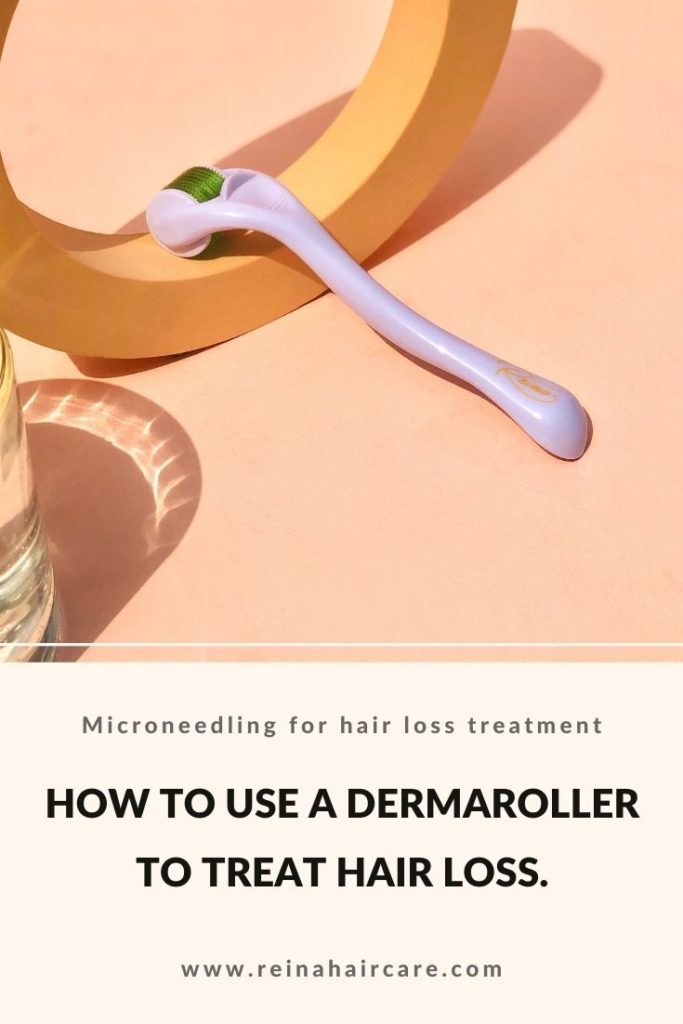 Related: Benefits of micro-needling to treat hair loss.
To derma roll your scalp, you'll be needing:
0.50mm Reina hair growth dermaroller.
Any moisturizing shampoo of your choice.
Cotton wool.
Warm water in a spray bottle.
Reina hair growth elixir.
How To Derma Roll Your Scalp.
Sanitize the dermaroller first before usage. Click HERE to see how to sanitise the dermaroller.
Section and clamp your hair away from the area to be derma rolled so your hair doesn't get tangled with the dermaroller.
Grab a good size of the cotton wool and spritz warm water on it not too much to drench the cotton wool but just enough to hold the shampoo in.
Pour a tiny amount of shampoo on the cotton wool and proceed to clean the scalp area to be derma rolled with it. The essence of doing this is to make sure we are working on a clean slate especially if the 'to be derma rolled area' are your edges and you use a lot of gels and waxes which you should stop using though. However, if you have applied a lot of products within the past few days on your edges, just wash them off with shampoo over the sink to be sure they are really out of the scalp area to be derma rolled.
After cleaning the area using the cotton wool with the shampoo in it, discard and get another clean cotton wool. Spritz warm water on it and proceed to clean off the shampoo remnants on the area. Do this until there is no more shampoo there. If you have to grab another ball of cotton wool and spritz warm water on it to thoroughly get the shampoo out, please do. 
Now that area is clean, remove the 0.50mm Reina hair growth dermaroller from its case and roll horizontally, vertically and diagonally on the scalp area gently for 2-3 minutes.
After derma rolling, take the Reina hair growth elixir and massage it into the derma rolled area. Massage until the oil is fully absorbed into your scalp.
Sanitise the dermaroller after this and place it back in its case. Click HERE to see the right way to sanitise your dermaroller.
Do this every week till you achieve desired results. Note: Use the dermaroller once a week, please. 
Do not share your dermaroller with anybody. It is for personal use only as it contains needles to avoid the spreading of infections.
To watch a detailed video on how this is done, please click HERE to watch for a better understanding if you are still at loss on how to go about this. It is also very important to sanitise the dermaroller after each use to avoid infections.
Related: Two easy ways to clean and sanitize your derma roller.
If you found this helpful, please share!
Created by Viola Ekene for Reina HairCare.