One of your priorities when it comes to scalp care should be to ensure your scalp is constantly moisturized & thriving. Failure to do so could easily lead to scalp conditions such as the presence of dandruff that makes it difficult to grow and nurture healthy hair.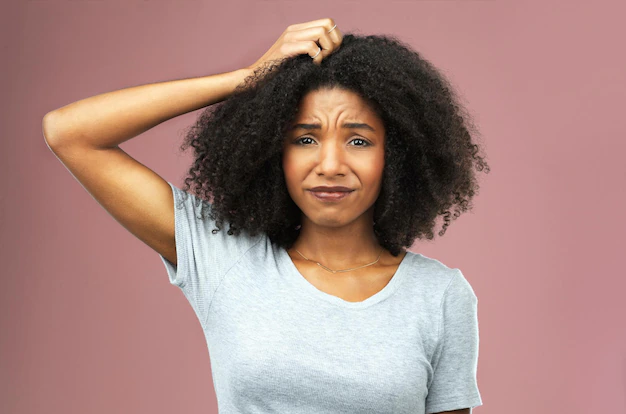 Dandruff is one of the most common scalp conditions relatively experienced by most people. This is one uncomfortable condition that causes other unpleasant scalp conditions that affect the health of your scalp & hair. Itchy scalp and the presence of white flakes on the scalp are all the result of dandruff.
In this piece, we will walk you through everything you need to know about dandruff and how to get rid of it. So, relax, read and learn as we go further.
What are dandruff and its causes?
Before we go deeper into how to get rid of dandruff, let's briefly discuss what dandruff is and the things that cause it.
One vital thing you should know about dandruff is that it is a fungal infection usually seen on the scalp. Dandruff thrives and feeds on the excess oil from the scalp, thereby causing itching & dryness.
If you happen to be experiencing a severe itchy and flaky scalp, all these are symptoms that you are probably dealing with dandruff.
Dandruff doesn't just appear on your scalp without any cause. The causes of dandruff range from different factors such as environment and habits, and unconsciously, there are certain things you do that facilitate the appearance of dandruff on your scalp, and they include the following;
Leaving your hair & scalp unwashed or not washing it often: One of the significant causes of dandruff is dirtiness, and leaving your hair & scalp without washing will lead to dandruff. This means that if your scalp is dirty, it is likely to produce extra oil (sebum) that enables the development of dandruff.
Using harsh scalp products: Aside from negligence, another thing that can cause dandruff is using harsh products on your scalp. Harsh products are hair & scalp products that contain chemicals and ingredients that are not good for the well-being of the hair & scalp. These products accumulate on your scalp leading to dandruff.
Healthy Routines to help you get rid of dandruff from your scalp
Getting rid of dandruff is not as easy as you think. And that's because of its fungal nature which makes it hard to eliminate. To ensure that you have completely gotten rid of dandruff on your scalp, you should devote your time and effort to practising scalp care routines that will make it achievable.
Without any further words, here are the top 4 healthy routines you can explore while dealing with dandruff;
Endeavour to exfoliate your scalp when doing your hair routine.
The accumulation of products is one thing that triggers the production of excess oil on the scalp, which in turn leads to dandruff. It is necessary to include hair and scalp exfoliation in your hair routine to help get rid of product buildup on your hair & scalp.
Another way to ensure that your scalp is free from buildup is by using a clarifying shampoo to wash your hair at least once in two months depending on how often you wash your hair. Always alternate between a moisturizing shampoo and a clarifying shampoo.
Cultivate the habit of letting your hair breathe for some time before styling them again.
After taking down your braids or any other protective style, you should endeavor to give your natural hair some time to receive fresh air. Inadequate/lack of air triggers the appearance of dandruff and makes the scalp sweat a lot which leads to odor & buildup.
So to prevent and get rid of dandruff, avoid doing and wearing things that would not allow fresh air to get to your scalp. The scalp is also skin. It needs to breathe you know!
Detoxifying your hair & scalp using a clay mask. 
As earlier mentioned, product leftovers and toxins are the significant causes of dandruff. Detoxifying your hair and scalp with a clay mask will go a long way in removing and eliminating these leftovers and toxins that cause dandruff.
It is important to use clay masks like the one from Reina Haircare to detoxify your hair and scalp.  
The Reina HairCare exfoliating and detoxifying hair & scalp clay mask helps get rid of accumulated product build up on the hair and scalp due to the presence of bentonite clay and apricot seeds which are known to be powerful but mild exfoliants.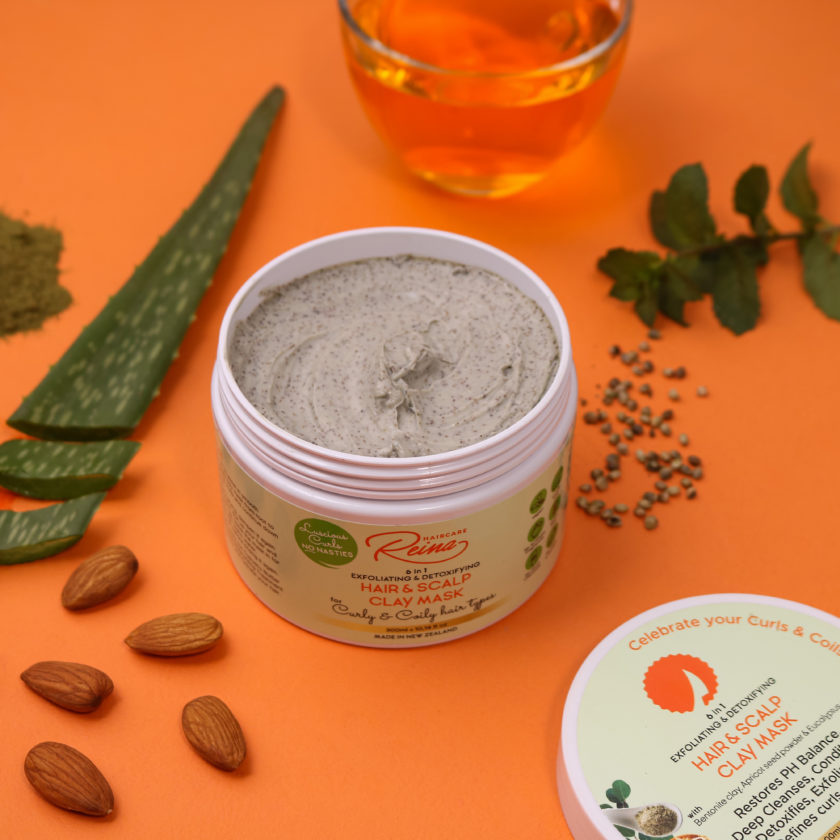 Moisturizing your hair & scalp.
Scalp care is very important and as such, you need to keep your scalp moisturized at all times. A simple Moisturizing routine for your scalp would entail spritzing a little amount of water on your scalp and gently massaging it in. Then seal in that moisture with a light absorbent scalp oil like that of Reina HairCare Scalp & Hair Serum. The essence of using lightweight oils to moisturize your scalp is to avoid clogging it which leads to product buildup, flakes & dandruff. You can do this at least twice a week.
Tell me, are you currently battling with dandruff? Have you tried any of the tips above? Please share with us in the comments section below. 
Written By Social Butterfly Haven for Reina Haircare.