For most people, whenever you hear the word "detoxification", some parts of your body come to mind, well, except your hair and scalp. Hair and scalp detox is one of the latest trends in the natural hair world, and it's here to stay. This article is not aimed at making you see why you should join the bandwagon but to help you understand why detoxifying your hair and scalp eliminates any form of issues like dandruff, limp dry hair and breakages. And using bentonite clay is a game changer!
In this article, I'll be educating you on three essential reasons why you need to detoxify your hair and scalp, not just with any product but with bentonite clay simply because it works best.
What Does Hair and Scalp Detox Mean?
First of all, do you know what hair and scalp detox mean? Generally, you know that detox aids to get rid of product buildup. Detox in simpler terms also means deep and thorough removal of dirt. So, hair detox is the process of removing dirt, oil, and product buildup from your hair strands. A scalp detox is a method of massaging the scalp by brushing or using an exfoliating scrub, which helps buff away dead skin cells, unclog the pores on your scalp, and clear product buildup from the hair follicles.
So just the way the skin of your face needs detox, the scalp and the hair need detox too. Rather than using different products to achieve these results, bentonite clay is more effective and serves as a clarifying shampoo and conditioner. I understand accessing the original unadulterated bentonite clay mask is a herculean task which is why I highly recommend you use the Reina HairCare 6 in 1 Bentonite Clay Hair and Scalp mask. This product is all shades of amazing as it also contains apricot seeds which are very powerful in detoxification. With the presence of the seeds, you'd think it would make the clay difficult to wash off. No, sis! It doesn't. It also doubles as a conditioner because it has an amazing slip making detangling a walk in the park.
But Hold On, What Is Bentonite Clay?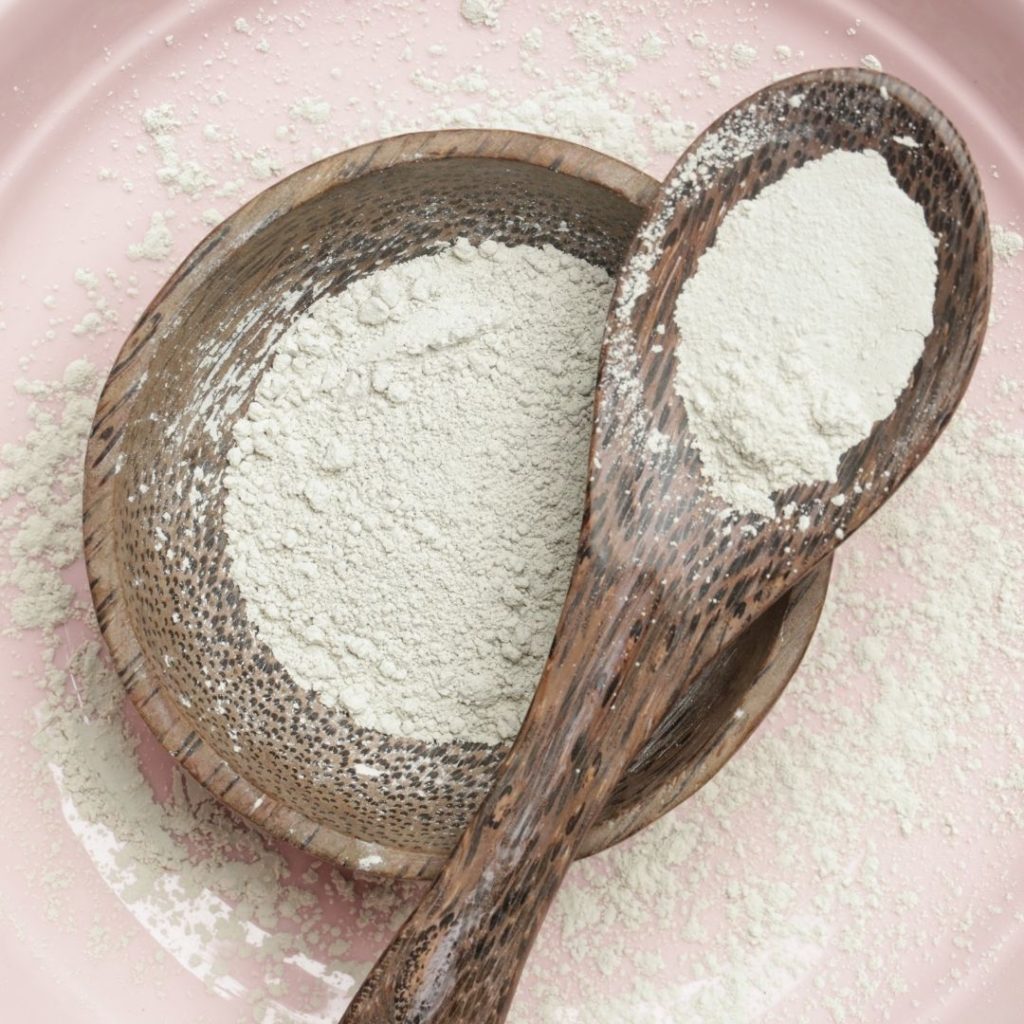 Bentonite clay is a mud-like substance derived from volcanic ash. Bentonite clay is used on the hair as a natural way to add moisture and remove toxins. It's sometimes used in the personal skincare care industry as a face mask.
Benefits Of Bentonite Clay Mask For Hair and Scalp Detoxification.
Bentonite clay deeply cleans the scalp, removing dead skin cells and toxins. Not only does it wash the toxins out of your hair, but it also strengthens your hair and prevents hair loss by cleaning the hair follicles so that they can absorb water and so you can continue to grow thicker, healthy hair. Bentonite Clay also contains a mixture of natural minerals beneficial for your hair and encourages hair growth.
Besides working as an excellent hair mask, bentonite clay also makes for an excellent hair rinse that adds intense shine to your hair.
Here Are Reasons You Should Detoxify Your Scalp Today.
Think about Bentonite Clay like a magnet for product buildup. When you wash the clay out of your hair, you remove all impurities and build-up with it. The Reina HairCare Bentonite Clay draws out impurities from hair and scalp. Bentonite is a negatively charged clay that attracts positively charged product build-up and heavy metal toxins.
Bentonite Clay also has antimicrobial properties. It kills bacteria, viruses, and fungi from the scalp and hair. It's perfect to use if you have dandruff, scalp fungus, or seborrheic dermatitis as it helps to maintain a healthy scalp.
Bentonite Clay gently cleanses & exfoliates your scalp while deeply cleansing your hair and providing deep conditioning to leave you with supremely defined curls, coils and kinks.
Pro Tip On Using Bentonite Clay.
To maximise the benefits of the Bentonite Clay, mix with water to activate the natural minerals in the clay. Mix with other ingredients like Apple cider vinegar and Moringa oil. This is why I recommend the Reina HairCare 6 in 1 Bentonite Clay Hair and Clay mask because it already contains apple cider vinegar, apricot seed powder, eucalyptus oil, moringa oil as active ingredients so you don't need to start looking for ingredients to mix while making a DIY which could alter the clay mask.
This 6 In 1 Bentonite Clay Mask is already activated and ready to use.
Section your hair, spritz water on hair as this helps apply the mask smoothly, apply the Reina HairCare bentonite clay mask product from roots to tips, massage into scalp and continue down hair strands. Roll up your hair and put on a shower cap. Leave the mask in for 30-45 minutes and rinse off thoroughly with warm water.
Once the clay is washed off the hair, the result is always soft and supple clean but not stripped of moisture. You can check out reviews of others that have used the bentonite clay mask to see what they are saying. 
Just as abuse of anything is detrimental, be careful not to overuse the bentonite clay mask. Use between once in two months to about 4-6 times a year as the clay mask works as a powerful detoxifier and you do not want to over-detoxify your hair and scalp.
If you have never detoxified your natural hair and scalp, you seriously need to. You'll notice the difference when you're done. Share this post to educate others as well. 
Other Posts You Should Check Out.
Different types of alopecia and how to treat or cure them. 
How to manage and deal with postpartum hair loss. 
Take Care!
Written By Viola Ekene For Reina HairCare.