As a woman, you've probably heard about postpartum hair loss or experienced it yourself. It's understandable to start panicking when this starts to occur. I mean who wouldn't? This article will help you understand why postpartum shedding occurs, how to manage or deal with it, what to and not use while experiencing postpartum shedding and tips on how to navigate that stage. Are you ready? Let's go, momma!
First, This is What Happens In Your Body When Pregnant…
When you're pregnant, your body changes in response to the new hormone levels needed for the baby to develop. There is an increase in estrogen which elongates the hair growth phase. This is why most pregnant women say their hair got longer while pregnant. This is also the reason for the 'skin glow' in some women during pregnancy. 
So Why Does Postpartum Shedding Occur?
So you see, once you've had your baby, your hormone levels return to their pre-pregnancy levels. The drop in estrogen triggers your hair to go back to the cycle of growth, resting and falling out. This is when you begin to see your hair all over the place. This is absolutely normal and natural.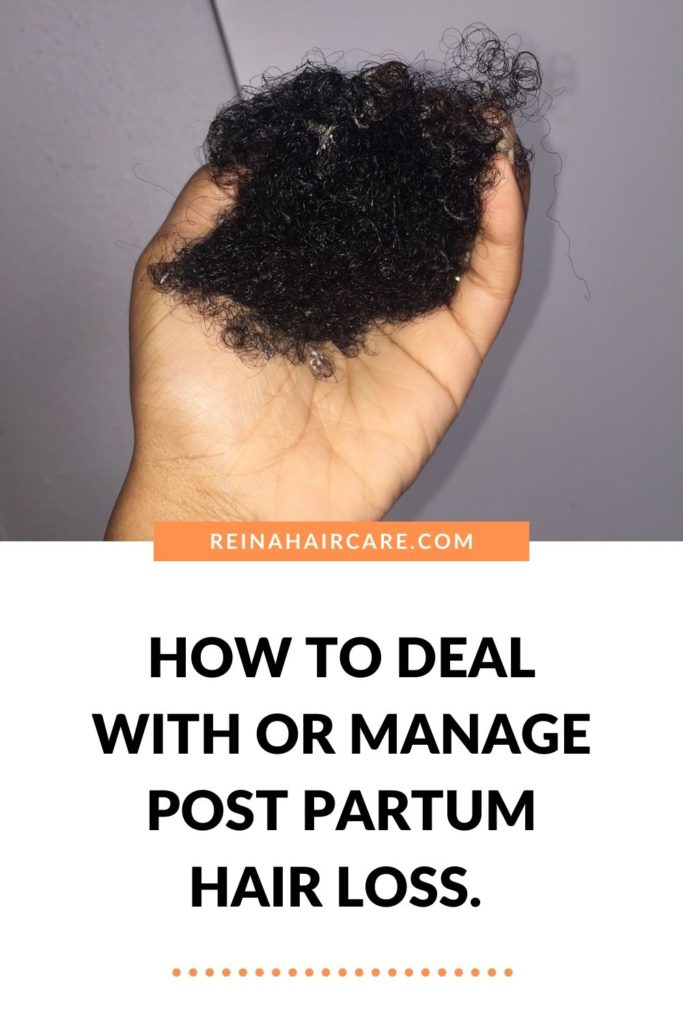 Things You Should Do While Experiencing Postpartum Shedding.
Avoid tight protective styles or generally any hairstyle that will pull at your hair follicles and cause bumps or rashes. 
Stick to healthy meals: Remember you just gave birth to a miracle. Your body needs all the love it can get and this includes eating a balanced diet. Stay away from meals that are not proper for new moms. You can ask your doctor to recommend healthy meals that would replenish your body.
Avoid hand in hair syndrome: If you're used to always touching your hair for one reason or the other, this is definitely not the time for it. Hand in hair syndrome generally leads to hair loss so imagine touching your hair constantly at that vulnerable stage? This is not the time momma!
Avoid stress: Research shows that a significant amount of stress can lead to hair loss and when not remedied can lead to alopecia. Click HERE to read and see what alopecia looks like.
Related: Different types of alopecia and how to heal or cure them.
Remedies To Post Partum Shedding.
Apart from all the things I mentioned you shouldn't do while experiencing postpartum shedding, another great way to regrow your hair at this stage is derma rolling or micro-needling using a 0.50mm derma roller and the Reina Hair Elixir. This should be done once a week consistently for results. After derma rolling, it is very important to moisturise the derma rolled area with the hair elixir which has nourishing and replenishing ingredients for the scalp. Click HERE to see how to use the dermaroller and HERE to learn how to store it after usage to avoid contamination. If you'd love to read reviews of other people that have given derma rolling a try, click HERE to read tons of them firsthand!
It's okay to feel overwhelmed at first on what to do to remedy postpartum shedding. Just take a deep breath and give derma rolling a try and thank me later. Have any questions? Please let us know in the comments. Share this post with a new momma as well. See ya!
Created by Viola Ekene for Reina HairCare.